Following a four-month cleaning and renovation, the historic tower clock atop Busch Hall was carefully reassembled and put back into commission on March 23. Clock repair specialists Rick and Linda Balzer and their crew spent the day delicately piecing together the dozens of shafts and rods and gears that comprise the stately timepiece. The task was completed with the reinstallation of the eight shiny gold-leafed hands that adorn the four sides of the 1917 building, which houses the Center for European Studies (CES).
Sandy Selesky, the Building Manager in the CES, who has scaled the 42 steps inside the tower once a week over the past 10 years in order to wind the clock, hardly recognized the renovated mechanism. "What a beautiful job," she said. "It's like a real antique piece now."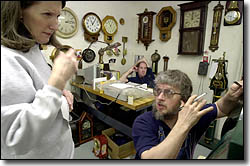 The clock is now equipped with an automatic winder, sparing Selesky the task of turning the manual crank. Instead, Selesky plans to lead tours to the clock room twice a week during the academic year. Tours will be conducted at noon on Mondays and Thursdays. For tour reservations, call Sandy Selesky at (617) 495-4303 ext. 200.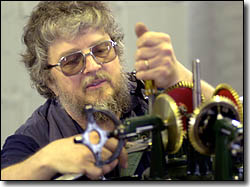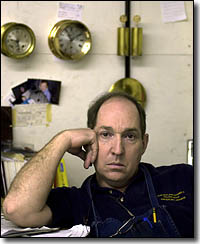 Clock restoration expert Rick Balzer has time on his side — he's worked in the clock business for 30 years.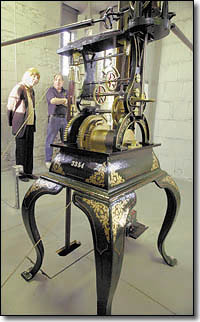 A full view of the clock mechanism following restoration.