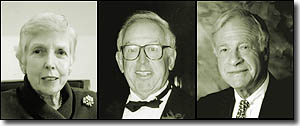 The Harvard Alumni Association has chosen three alumni to receive the 2000 Harvard Medal: Charlotte P. Armstrong '49, L.L.B. '53; John G. Caulfield '50; and Louis I. Kane '53. First given in 1981, the Harvard Medal recognizes extraordinary service to the University. President Neil L. Rudenstine will present the Medals on Commencement afternoon, June 8, at the annual meeting of the Alumni Association.
Charlotte P. Armstrong, a familiar presence on the campus, has an outstanding record of service to Harvard. A graduate of Radcliffe and of the first Harvard Law School class to admit women, she always displays sound judgment and diplomacy whether presiding over the Board of Overseers or the Radcliffe Club of New York City.
President of the Board of Overseers in 1998-99, Armstrong served on no less than seven committees and chaired several during her six year tenure. Her judicious leadership of the Board played an important role in the merger of Harvard and Radcliffe while honoring the history and identity of both. Her varied service has included chairing the Committee on Women's Studies and Women Faculty, and serving as president of the Harvard Law School Association, HAA Elected Director, and vice president of the Harvard Club of New York City. She is a current member of the Task Force on Women and Leadership in the Faculty of Arts and Sciences and the Radcliffe Institute Transition Advisory Committee.
John G. Caulfield will celebrate his fiftieth class reunion in 2000. He recently retired as assistant director of operations in the Harvard Athletics Department, where he officiated at every big stadium event, efficiently directing the ticket takers and parking attendants. His warmth and good humor made him a beloved fixture in his office near the entrance of Dillon Field House for fifty years. "He knows 'Ten Thousand Men of Harvard' and then some" says Fran Toland, senior associate director of Athletics. "He's been a long-time friend and ambassador for us."
A teacher and principal of a local elementary school, Caulfield grew up in Cambridge and attended Harvard on a Buckley Scholarship, created for deserving Cambridge public school students. A Romance languages concentrator, he played baseball, was team captain his senior year, and earned a spot in the Harvard Baseball Hall of Fame. He was an assistant baseball coach in 1957 and '72.
Louis I. Kane has never spared time or effort on behalf of Harvard. Despite the demands of his job as chairman of Au Bon Pain Corporation, Kane has made fundraising for Harvard his second job. In addition to his successful tenure as co-chair of the Faculty of Arts and Sciences Committee for The University Campaign, he was vice-chair of the Harvard College Fund from 1978-85 and 1991-98, and he currently serves as co-chair. He is a John Harvard Fellow and member of Boston's Major Gifts Committee.
As often as he makes calls for Harvard, Kane is also called upon to serve. He has played a leadership role in the HAA as an Elected and Appointed Director, and was a member of the Nominating Committee for Overseers and Directors, chairing the committee in his final year. He has been an active member of his class, serving as reunion gift co-chair for most class reunions, including his twenty-fifth.