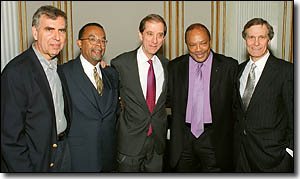 Declaring that music has been central to the African-American experience since slavery, Afro-American Studies Department Chair Henry Louis Gates Jr. announced Friday the creation of the first endowed professorship in African-American music at Harvard and possibly in the nation.
The chair, created with a $3 million gift from media giant Time Warner Inc., is named for celebrated African-American jazz performer, actor, and producer Quincy Delight Jones Jr. The chair's official name is the "Quincy Jones Professorship of African-American Music, Supported by the Time Warner Endowment." Jones' long resume includes 26 Grammy Awards and a record 77 Grammy nominations, garnered over six decades in the music industry.
Among Jones' many notable achievements are his roles as producer for pop singer Michael Jackson's Thriller and 1985's We are the World.
"Music has been central to the African-American experience since slavery," said Gates, who also serves as the W.E.B. Du Bois Professor of the Humanities and director of the W.E.B. Du Bois Institute for Afro-American Research. "And few, if any, cultural developments in the 20th Century have been as important as the creation of jazz. Thus, it is especially fitting that Time Warner should honor both African-American music and one of its undisputed masters by endowing the Quincy Jones Professorship of African-American Music."
The Quincy Jones professor will hold a joint appointment in the Departments of Afro-American Studies and of Music. Gates said the first Quincy Jones professor would probably be named in mid-2001 after an extensive search.
Jones attended a Friday evening dinner at the Fairmont Copley Hotel in Boston that kicked off the Afro-American Studies Department's 30th anniversary celebration. Jones said he was honored at the professorship being created in his name.
"From the bottom of my heart, I'm very touched," Jones said at a news conference before the dinner where the new professorship was announced. He added that he believed the giants of African-American music, such as jazz great Louis Armstrong, would one day be counted alongside such giants of classical music as Brahms, Beethoven, and Bach. "Blues, jazz, spiritual, gospel…. It will be the classical music of this country," Jones said.
Also attending the news conference was Time Warner Chairman and Chief Executive Officer Gerald M. Levin, who announced last year that Time Warner would fund a new professorship. Levin said Time Warner decided to create an endowed chair because the endowment would ensure that the professorship is permanent.
"It honors music which is a fundamental art form and it honors Quincy Jones, probably the most unique individual in the history of music," Levin said.
President Neil L. Rudenstine said the chair was created out of the combination of generosity and leadership.
"It's a rare occasion indeed when you can bring together the generosity of Time Warner and the leadership of Skip Gates in one act," Rudenstine said. "Nothing could be more celebratory. Nothing could be more profoundly bright. Nothing could make a president more cheerful."
Faculty of Arts and Sciences Dean Jeremy Knowles said the new chair would only serve to broaden the scope of Harvard's offerings in the coming years.
"I am deeply grateful and I look forward to the next 365 years of Harvard history that will be enriched by this," Knowles said.
During Friday's dinner, Rudenstine, Knowles, Jones, and Levin were each honored by the department for their contributions and presented with W.E.B. Du Bois medals minted especially for the occasion.