While many of their peers were sipping margaritas on the beaches of Cancun or playing volleyball in Daytona, Fla., a half dozen Law School (HLS) students spent their spring break enmeshing themselves in the complexities of Indian law during a weeklong "clinical" at the Navajo Nation reservation in the Arizona high desert.
Over the course of six days, the HLS students received an education in Navajo history and culture, met with tribal leaders, and worked closely with the Navajo Supreme Court on a variety of pending cases.
The program was directed by Robert A. Williams Jr., visiting professor of law and Bennett Boskey Visiting Lecturer on Law at HLS, who, for the past two years, has taught a winter term course on Federal Indian Law at Harvard. Williams, who is the E. Thomas Sullivan Professor of Law and American Indian Studies at the University of Arizona, James E. Rogers College of Law, believes the clinical "gives the students the opportunity to apply the Indian law that they learned in my class, and see how it really works out on a reservation, the largest reservation in the United States."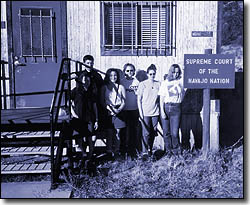 The Navajo Nation encompasses 28,000 square miles on the Colorado Plateau, and is home to more than 140,000 people. Although most of the reservation sits in Arizona, it also crosses the border into parts of northern New Mexico and southern Utah. As visually blessed as the area may be, it is equally economically challenged, with 29 percent unemployment and a poverty level of 55 percent. Just four out of 10 Navajo Nation residents have a high school diploma, and only three in 100 have a college bachelor's degree, according to the 1990 federal census.
With those statistics serving as a backdrop, one might guess the Navajo legal system is neglected and disorganized. Not so, according to Renee McFarland '01, one of the HLS students who attended the clinical. "The court itself is very impressive. It is just as developed [as conventional American courts] and basically the same ideas are used, but they also take into account Navajo common law principles. The opinions that we read are very well reasoned."
"Right now the Navajo courts are working on interpreting their statutes against this background of Navajo common law," Robin Wall '01 elaborates. "It's interesting because it hasn't really been done before, and they're not sure how it's going to be received by federal courts reviewing their decisions… but they think it's an important project because they want to make their judiciary more Navajo."
During their week on the reservation, the students were allowed to "build [case] files, and go through the files, and perform basically the same kind of work that any law clerk would for a Supreme Court [justice] – draft opinions, draft research memorandum," according to Williams.
McFarland worked on two administrative law cases. Wall worked on a workers' compensation case.
Katherine Helzer '00, who worked on two child custody cases, earned an appreciation for one particular aspect of the Navajo court system – its reliance on the so-called "peacekeeping" process. "It's something I see developing more slowly in the Western legal system, this form of mediation and arbitration, and the Navajo are way ahead of us on that," she says.
"The focus of their criminal justice system is not on retribution. It's on restorative justice. Punishment is not their primary concern," Helzer explains. "That's part of the reason that sometimes the federal courts are uncomfortable with what Indian courts do, because they're doing something different than our system."
Danielle Leonard '01 was struck by the philosophical differences between the legal systems, but also impressed by the ethical standards that undergird the structure of the Navaho system. "Their perspective in litigation is not as adversarial," she says. "The Supreme Court, which is located in a trailer, is not seen as a hierarchical system. It's a much more horizontal system. The court is connected to the people."
During their week in Window Rock, the students met with prosecutors, public defenders, and legal aid workers, giving them a wide-ranging perspective of the tribe's legal structure. They also spent an evening as guests of honor at a "teaching ceremony" held in a "hogan" – a traditional Navajo home – hosted by the head of the tribe's peacekeeping program.
HLS Assistant Dean for Academic Affairs Alan Ray, who helped organize the clinical, was impressed with the Navajos' congeniality. "The Navajo Nation… opened their homes and their hogans to our students, and I think that it will be an experience [the students] will always remember." Ray is a member of the Cherokee Nation of Oklahoma.
Williams believes the clinical exposes students to something they would never otherwise see, and expands their field of vision as they enter the legal profession. "One of the big challenges for lawyers in the 21st century will be doing what I call 'law in a multi-cultural world,' and learning some of those cultural relations skills.
"So whether you're going to be a lawyer who does international business in Mexico or Japan, or whether you're going to work in a legal aid office in the inner city, anytime you approach a situation you're not familiar with, in a cultural background that you're not familiar with, there are certain types of skills that this type of program teaches," he says.
"For most students who go through this, it's usually sort of the capstone of their legal educational career," Williams explains. "They'll look back and when they think of one thing that really stands out, it's this type of opportunity."