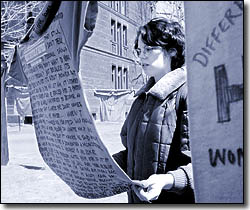 On a still spring night in Cambridge, more than 100 people gathered at Harvard Yard for a candlelight vigil and march to draw attention to the issue of violence against women.
The event, held last Thursday, was part of the national "Take Back the Night" campaign, and was sponsored by the Coalition Against Sexual Violence, the Office of the Dean of the College, the Ann Radcliffe Trust, the Harvard Coop, the Cambridge Youth Peace and Justice Corps, and the Massachusetts Institute of Technology.
The crowd, which was overwhelmingly female, marched slowly through the Yard, at times breaking into smaller groups to share their stories with each other, eventually arriving at Radcliffe College where a reception was held in their honor.
Orchid Pusey '00, with the Coalition Against Sexual Violence, was elated with both the turnout and the mood of the crowd. "The energy level was very high," she said. "What was so cool was the fact there were so many people around at the end [of the march]… To keep people's attention for that many hours is a big challenge."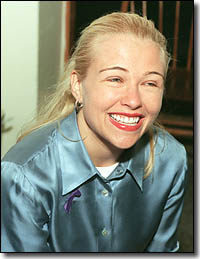 National activist Katie Koestner, an outspoken date rape survivor, kicked off the rally with a stirring speech before an overflow crowd at Emerson Hall. Her message elicited tears from some, and applause from others. "I think she tried to make [her story] something that Harvard students could especially relate to, in terms of knowing that it's hard to speak out," said Alexis Karteron '01, who helped organize the event. "You don't want someone to doubt you… You don't want people to doubt your capabilities."
The other "Take Back the Night" events at Harvard included a "Take Back the River Run" along the Charles last Saturday, and, outside the Widener Library, a weeklong display of bright blue T-shirts, scrawled with messages from the survivors of sexual violence, titled the "Clothesline Project."
"We're really excited, especially by the fact that there are so many people, who are [generally] uninvolved, who came to the events…who we hadn't seen before," Karteron said.
Pusey agreed. "I thought there was triumph," she said.