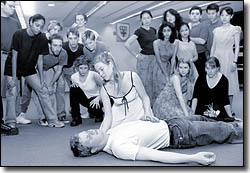 By day, they hit the books and the labs, making the rounds in their academic pursuits. But by night, a talented coterie of School of Public Health (SPH), Medical School (HMS), and Dental School (HDS) students, known as the Longwood Players, take to the stage to rehearse for their upcoming production of West Side Story.

It may seem a little peculiar – a group of future doctors, dentists, and health experts slicking back their hair and rolling up their jeans to portray the Jets and the Sharks, battling for gang turf in the classic 1950s musical – but that's exactly the point, according to Players' President P. Kirstin Newby. "The Longwood Players provides students of science and medicine with a creative outlet that didn't previously exist," she says.
Newby, who is in her second year as an SPH doctoral student in nutritional epidemiology, co-founded the organization last year after realizing Harvard had no program to serve the needs of medical students who had an interest in musical theater.
"People talk about the need to create, the need to be onstage, the need to be in the theater. People may choose one path for their professional career, but often miss performing musically or theatrically. The Longwood Players provides an opportunity to foster theatre as a hobby," Newby says.
So Newby went to work, eliciting the support of two students in the Medical and Dental Schools in forming the group. "The Longwood Players was founded to bridge together groups of students from the Medical School, the Dental School, and the School of Public Health, to foster [a sense of] community, while building networks on the Longwood campus particularly," she explains.
As the Longwood Players began taking shape, however, students from other schools, and people outside the University also began expressing an interest.
"I like the idea of bridging people together … and the School of Public Health itself focuses on building community, both within the school and outside of the school. The Longwood Players brings together students and staff members from different schools across the University, as well as members from the larger Boston artistic community. We come together for just one mission and one love – the art form of musical theater."
Last year, the group staged its first production, Hair, and despite some initial jitters, all three performances went off without a hitch. "That show was chosen because it was the right fit for a first production," Newby says. "It had a flexible cast. It could grow. It could shrink. … It had a minimal set, minimal costumes, minimum production costs, and [in the end], it was very successful. People really enjoyed the show, both performers and theatergoers alike. A lot of people later said to me they were sort of shocked it all happened in such a short time."
The show did so well, in fact, that the Players made a modest profit. Those funds are directly used to subsidize this year's show, which is greater in both magnitude and cost.
"West Side Story is a much more difficult show to stage than Hair, especially theatrically and dramatically," according to Newby. "Musically, it is very challenging … It's an ambitious production, I think, for a second-year group, but we actually had more people audition than we were able to cast in the show." They ended up with 31 cast members, while 22 musicians were chosen for the orchestra, and 24 participate on the Production Council. Dozens of others help out with set design, lighting, and other support. The troupe, which began planning the show in September, rehearses four to five times a week now that the show dates are approaching, and Newby believes all the hard work and dedication is paying off.
The rehearsal schedule places additional demands on already time-challenged students, but the actors don't seem to mind. "It requires some creativity and less sleep … but it's been a blast," says Anita King (SPH) '00, an aspiring physician who plays the role of Rosalia in West Side Story. "Medical school is very structured, and so [the opportunity to perform onstage] has been a real treat." Her involvement with the Longwood Players also provides King with a more conventional forum for her acting and singing talent. "Some of my friends [from late-night hospital rotations] joke with me by saying that now that I'm doing this show, I'll be less prone to scare all the patients in the emergency room with my Ethel Merman imitations."
Newby is convinced the show will again make a profit this year, with some of the proceeds going to Teens Against Gang Violence, a Dorchester-based community organization. "The organization was a good match," Newby says, "considering the show's gang-related theme. It is part of the Longwood Players' mission to reach out and give back to the community."
The three performances of West Side Story are planned for April 27, 28, and 29, at 8 p.m. at the Massachusetts College of Art Tower Auditorium, 621 Huntington Ave., Boston. Advance tickets are on sale at the Harvard Box Office. Prices are $12 for general admission, and $9 for students and seniors.