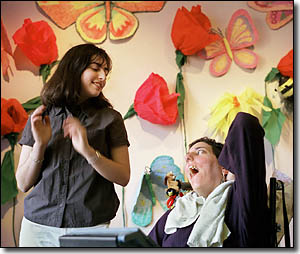 Traversing the wavy brick sidewalks, negotiating the narrow walkways, and climbing up sets of steep granite stairs can be a challenge for any Harvard student; one can only guess the difficulties facing a student with disabilities. Imagine darting from class to class, dodging the puddles and potholes, racing against the traffic, and carrying a handful of books, while maneuvering the terrain with a guide dog or in a wheelchair.
The daily grind can be a serious struggle for Harvard students with vision or hearing impairments, chronic illnesses, or temporary conditions that hinder their senses or mobility. Helping others become more aware of their obstacles is the focus of a relatively new student-run organization making headway at Harvard and in the surrounding community.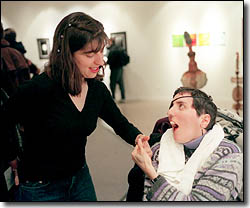 The organization traces its roots back to the spring of 1998, when, in an effort to draw attention to the issue, then-freshman Dorothy Weiss '01, "sought out everyone I knew in the community who was interested in the goals of promoting awareness of disability, of working with individuals with disabilities, and working with the University to promote disability policy and sensitivity to disability." Several months of phone calls, research, and follow-up, resulted in a group calling itself Encouraging Mankind to Perceive Others With Equal Respect (EMPOWER).
EMPOWER works closely with other student groups and the administration to ensure that everyone has equal access to all activities on the Harvard campus. The group helps coordinate service activities, sponsors conferences and speakers, and publishes its own newsletter. And what began as a modest clique with just a handful of people has now evolved into a full-fledged organization with about 50 undergraduate members, and a mailing list of almost 200.
Weiss had several motivations for launching this crusade. As a high school student, she worked with a young boy with cerebral palsy. She saw what the disease did to his body. She also spent time in nursing homes alongside her mother who worked as a nutritionist, exposing Weiss to "people with different lives and needs" than her own. In recent years, Weiss and her family have had to deal with a difficult situation at home, since Weiss' father Ira was diagnosed with multiple sclerosis. He now uses a wheelchair.
The education Weiss received at home is now core to the mission at EMPOWER. "I think it's about promoting an awareness that isn't necessarily absent, but needs to be piqued a little bit," Weiss remarks. "Every once in a while, people will come up to me and say 'I had a class in this building, and while I was there, I found myself looking to see if there was a ramp, looking to see how somebody, if they couldn't hear the speaker, what they would have done.' I think the fact that people are thinking this way, and thinking inclusively of everyone, is really the end goal of EMPOWER."
Another one of EMPOWER's goals is to reach out into the community. Through the group's affiliation with the Phillip Brooks House, members volunteer their time working with people with disabilities. Weiss spends Sunday afternoons with Emily Malin, a 29-year-old Arlington woman who designs and paints colorful greeting cards, despite suffering from a variety of developmental disabilities stemming from a viral infection when she was 11 years old. The two met in November. Now, they've become good friends. "I just fell in love with her," Weiss says. "She's very articulate and very funny…She has a positive outlook and she does things she enjoys…She's just a delightful person…I look forward so much to the times I spend with her."
Although Malin cannot speak, she can communicate, either through a keyboard on her wheelchair, through sign language, or, if one looks closely, through her artwork. Emily combines graphite pencil outlines with watercolor overlays to create a series of vivid, lively images that are striking for their simple, often whimsical themes, but deeply reflective of a complex mix of emotions and moods. Many are bright and cheerful, while a handful of others are dark and almost sinister.
Weiss and Malin often play Scrabble together ("she's better than me," Weiss says), and they share their love for art by attending local exhibitions. Their relationship has been a source of inspiration for Malin, according to her mother Diane. "They share a lot of interests," she says. "And [having a friend like Weiss] broadens her world." Malin is also teaching Weiss sign language ("she gets frustrated with me sometimes because I'm too slow," Weiss admits), and the two seem to grow closer with every letter and word that Weiss is able to master.
EMPOWER's ability to effect change at Harvard and in the community has impressed Louise Russell, the Director of the Faculty of Arts and Sciences Student Disability Resource Center. "Awareness of these issues was so dormant for a long time here, and it was very difficult to get students together to look into what they…as well as the administration could do to be responsive [to the needs of people with disabilities]," she says. "I think it is very timely that [Weiss] and the other students involved in this effort have created a new period of enlightenment for all of us on this campus, and have done so in an extremely thoughtful, caring way,"
Weiss praises the administration for making University buildings more accessible to those with disabilities. She remains concerned, however, about how EMPOWER's message is resounding among her peers at Harvard. "One of the things that's really important to me at this point is…promoting real awareness in concrete, more institutional ways…like working with the Dean of Students office, like expanding our ideals and enthusiasm to other aspects of campus." Specifically, over the next year, Weiss hopes to bring other student organizations on board, so they are more cognizant about making their events more accessible to everyone.
On Saturday, May 13, the organization is sponsoring a conference titled A Multidisciplinary Academic Approach to Disability, at the Pfiser Auditorium, which will bring together a number of experts in the discipline. The focus of the conference, Weiss says, is to "generate enthusiasm among people at Harvard who are interested" in disability issues. She hopes the event, which is free and open to the public, will serve as the impetus toward a larger goal – that of creating a course of disability studies at the University.
As she guides the future of EMPOWER, Weiss is also contemplating her own future, after graduation. The cognitive neuroscience concentrator recently made the decision that she will attend medical school after Harvard, with the eventual hope of working in behavioral neurology. She's attracted to the field, she says, because it offers the opportunity to work closely with people to "learn not only about their clinical presentation, but about their entire lives and lifestyle, and the way they operate and interact with family members and friends…That's what excites me most about medicine, to really get to know people in context, and to work with them."
EMPOWER will "absolutely" live on without her, Weiss says without any hesitation, and so, she says, will its mission to educate and enlighten, to open doors, and to flatten out the rough spots for those Harvard students seeking to travel the same paths as their peers. For more information on EMPOWER, e-mail empower@hcs.harvard.edu.