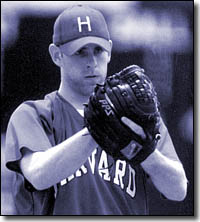 The road to a fourth consecutive Ivy League baseball championship began this past weekend at the end of Harvard's longest road trip of the season. After going 5-7 on the annual week-long, spring-break trip to South Florida, the Crimson swept Cornell (2-1, 9-6) and split with Princeton (6-3 win in 9 innings, 12-3 loss) to bring its record to 8-11 overall and 3-1 in Ivy play.
First, in game one of a doubleheader in Ithaca on April 1, Harvard was outhit, 8-5, by the host Big Red but made two first-inning runs stand for a 2-1 victory. Sophomore catcher Brian Lentz accounted for the game-winning RBI, as his single to left field brought home both Crimson runs. Classmate Justin Nyweide earned the win on the hill, as he struck out six and allowed six hits in 5.2 innings to improve his record to 2-2. Junior John Birtwell, the 1999 Ivy Pitcher of the Year, made a rare relief appearance and struck out three batters in an inning and a third to pick up his first save.
Harvard then used three ninth-inning runs to key a 9-6 win in the second half of the twin bill, extending its winning streak over Cornell to eight games. Lentz provided the big hit once again, as he tripled to right center to bring home two runs and unlock a 6-6 deadlock. Lentz then scored as senior outfielder Jeff Bridich laid down a perfect sacrifice bunt on a suicide squeeze.
Freshman left-hander Kenon Ronz was knocked out of the game in the third inning, but senior righty Mike Madden gave a bulldog performance in relief. Madden went seven innings, striking out seven and allowing just four hits and one run, while earning his first win of the year. The Crimson offense came alive for 13 hits, led by two each from Lentz, Bridich, sophomore Faiz Shakir, junior Scott Carmack, and senior tri-captain Erik Binkowski. Sophomore Nick Carter had a game-high three RBI on a two-run single and a sac fly.
The doubleheader the following day in Princeton was a story of two totally different games. In game one, Harvard produced a season-best 15 hits in a 6-3 win; in game two, the Crimson pitching staff allowed a season-high 16 hits in a lopsided 12-3 loss.
The key to victory in game one was the sensational pitching of sophomore right-hander Ben Crockett, who shared 1999 Ivy League Rookie of the Year honors with Princeton pitcher Chris Young. Crockett tossed the fifth complete game of his young career as he improved to 2-0 this season with an eight-strikeout, eight-hit performance.
Harvard took a 3-2 lead into the bottom of the seventh and final inning and Crockett got the first two batters to ground out, but Princeton rallied to bring the tying run home on three straight singles. In the top of the ninth, Lentz's infield single put runners on the corners with one out and Bridich at the plate. The senior tri-captain stepped up to the challenge, drilling a double over the left fielder's head to score two runs. Bridich then stole third and scored when the catcher's throw sailed over the third baseman's head.
Bridich finished the game 3-for-5 with 3 RBI, while Lentz was 3-for-5 with 2 RBI. Sophomore shortsop Mark Mager, junior outfielder John Franey, and Carter each had two hits. Ten of the Crimson's 15 hits came off Tigers' freshman starter Ryan Quillian.
Game two started as a battle but ended in a slaughter. Harvard jumped on top, 1-0, in the top of the first when Binkowski's sac fly plated Mager, who led off both games with a hit. The Tigers came back with two runs in the bottom of the inning behind four straight singles off Franey, the Crimson starter. That lead was short-lived, as Harvard answered in the top of the second with a two-out rally.
Princeton recaptured the lead in the bottom of the inning once again, scoring twice to go up, 4-3, and never looked back.
Mager, Lentz, Carmack, and Hopps each finished with two hits as the Crimson had nine as a team. Four pitchers relieved Franey, as freshman southpaw T.J. Sevier and senior Derek Lennon did not allow a hit over the final 2.2 innings.
Following a non-league contest at the University of Rhode Island on April 5, Harvard returns to Ivy play with its 2000 home-openers against Columbia and Pennsylvania on Saturday and Sunday, April 8 and 9. Both days feature doubleheaders starting at noon.
Lentz named Ivy League Rookie of the Week
Sophomore catcher Brian Lentz has been named the Ivy League Rookie of the Week in baseball.
The six-foot-one-inch 210-pound newcomer to the team had a monster weekend in his first Ivy League action. In a pair of doubleheaders at Cornell and Princeton, Lentz hit a combined .529 (9-for-17) with six RBI, two triples, and a .765 slugging percentage.
He accounted for the game-winning RBI in both ends of the Cornell twinbill on Saturday, as his two-run single in the first inning lifted the Crimson to a 2-1 win in game one and his two-run triple in the ninth unlocked a tie and keyed a 9-6 win in game two. On Sunday at Princeton, Lentz had a season-high three hits in leading Harvard to a 6-3 victory in game one before going 2-for-4 in a 12-3 loss in game two.
In 18 games this season, Lentz is now third on the team with a .273 batting. He has two triples, one home run, eight RBI, and three stolen bases.