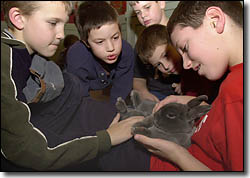 Every Tuesday afternoon for the past eight weeks, kids in the Young Scientists' Club turned the Harvard Museum of Natural History into their own research lab to learn about light. Using the many exhibits and some traditional scientific methods such as observation, sketching, dissecting, and interviewing experts, the 15 children, ranging in age from 8 to 12, learned the basics of physics, biology, ecology, and botany while exploring lights, lasers, and crystals.
During their after-school visits, the children learned how animals see at night, explored the concepts of wavelengths and reflection, conducted experiments with light, and made glowing T-shirts. The budding scientists also spent time handling and learning about the ways a rabbit perceives light and color to survive.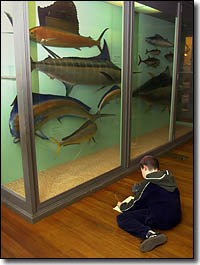 The Young Scientists' Club is just one of many programs for children and families offered through the Education Office at the Harvard Museum of Natural History. For more information, call (617) 495-2341.