Kathy Delaney-Smith rode her bike to the office the day after the devastating 96-74 loss to Dartmouth ended the Crimson women's basketball season.
It had been only days earlier, coming into the season's last weekend, that Delaney-Smith, Harvard women's basketball coach, had hoped Harvard would share the title that Dartmouth won outright. The whipping by Dartmouth still had her agitated enough the next morning to need the long pedal into work from her Newton home.
Though disappointed at the loss, Delaney-Smith said she was proud of her players. A young team with just two seniors, they played well enough so that they were in contention for the title going into the season's last weekend. That was despite losing three starters to injury for all or part of the season and having a plague of lesser injuries that affected all but three of the team's 15 members.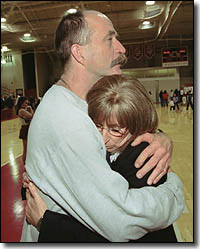 It's not in Delaney-Smith's nature to dwell on the past, however, and on that Wednesday she was already talking excitedly about the days ahead.
For Delaney-Smith, the future holds not only a promising new basketball season, but an interim of rest, recruiting – and radiation.
Rest is foremost on Delaney-Smith's mind right now. Diagnosed with breast cancer in December, she has maintained a full schedule of practices, games, and weekend road trips despite surgery to remove the cancerous lump followed by a regimen of chemotherapy that sickened her for days and sapped her energy.
Though she has made a policy of not complaining, she admitted the season, the surgery, and the chemo have taken their toll.
"I'm going to take some time off," Delaney-Smith said. "If I were really listening to my body, it's telling me I'm pretty tired right now."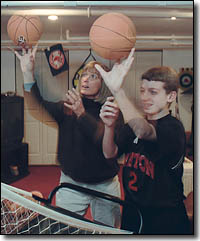 Whether or not she listens to her body, Delaney-Smith doesn't have far to go for a second opinion. Her husband, Francis Smith, said the woman he described as &quo t;energy personified" now collapses into bed when she gets home from a long day of coaching.
"Kathy has never been what I would call a vulnerable person," Smith said. "But what this has done to her – physically how sick it's made her, the weight she's lost – she's pretty vulnerable right now…. Cooking for her has been easy because she can't stand the smell of food."
While the hectic pace of the last few months may have been physically exhausting, Smith said, it also may have helped Delaney-Smith deal with her disease.
"If not for the scene you see here night after night, she'd be home sick with her cancer. What good would that do her?" Smith said, sitting in the bleachers of Lavietes Pavilion after Harvard beat Cornell in its last home game of the season.
Rest may be on the agenda, but to Delaney-Smith, "taking time off" doesn't mean going on vacation. Rather, she plans to stop going in early and staying late. Vacation may come – probably in August or September – but for now, cancer or not, there's work to be done.
Recruiting
In the coming weeks, Delaney-Smith plans to meet individually with each of her players and travel to the NCAA tournament's Final Four games and ceremonies in Philadelphia – as many Division I coaches do at this time of year. She must also complete planning for her summer clinic at Harvard and for the Net Results basketball camp she co-owns and runs each summer at Daniel Webster College in Nashua, N.H.
Beyond that, July presents a month of travel across the country for Delaney-Smith and her assistant coaches to meet with potential recruits.
The incoming recruiting class of three freshmen may be the best one Delaney-Smith has brought to Harvard, she said. The freshmen, combined with the experience of the existing squad, which will lose just two seniors next year, has Delaney-Smith confident that the team will once again be in the hunt for the Ivy League title.
"I have always found that dealing with disappointment and loss will only make them better next year," Delaney-Smith said. "As much as I'm excited about the incoming freshmen, I'm even more excited about who we have returning."
Eckman Award Winner
Delaney-Smith will figure prominently in the Women's Basketball Coaches Association's banquet at the Final Four this year. She'll be handed the association's Carol Eckman Award, named after one of the pioneers of women's college basketball and given annually to the coach who embodies commitment to the student athlete, dedication to purpose, and courage.
Delaney-Smith certainly did that this year. The season itself was busy enough, but the season's end – with three games in five days and the possibility of a three-way tie for the title as late as the season's last weekend – was so hectic that Delaney-Smith had trouble finding time for her chemotherapy.
Her third chemotherapy treatment was originally scheduled for March 7, the day of the last regular season game against league-leader Dartmouth. That game forced her to postpone the treatment until March 9, but had Columbia not shocked Harvard with its first-ever win against the women's basketball team, a tie for first would have forced another postponement while the title was settled with playoff games.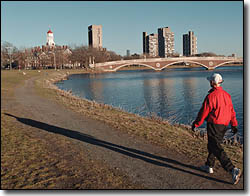 Delaney-Smith's cancer and the way she's handled it has brought her attention in the form of newspaper articles, a call from a Hollywood agent, and a possible book proposal from a former player.
The attention has been a bit disruptive at a difficult time, but Delaney-Smith made up her mind early that she would be public about her cancer to help both her players and the general public better understand the disease and the critical importance of early detection.
Still, she said, the attenti on sometimes makes her feel uneasy and even slightly unworthy, compared with others whom she feels are handling their disease better.
"I just feel ordinary," Delaney-Smith said. "I don't think it's a big deal. I think there's a million of me out there, people who are doing a better job."
Delaney-Smith has a final chemotherapy session late this month or early April and then begins a course of radiation therapy that will have her at the Dana-Farber Cancer Institute five days a week for six weeks. Delaney-Smith said the therapy will still make her tired, but she doesn't expect to get as sick from it as she has with the chemotherapy.
After completing the radiation treatment, Delaney-Smith has five years on the drug tamoxifen, which doctors hope will prevent a recurrence of the disease. Doctors have already warned her that her body will need some time to heal even after the radiation therapy is complete.
"My surgeon told me the one thing I have to be careful of is that everybody keys in on their last radiation, expecting to feel terrific when it's done. It takes a while for you to feel great," she said.
Until she does, Delaney-Smith said she'll need another passion to get her through the radiation treatments now that the basketball season is over. Luckily, she has one handy: tennis.
"I am as obsessed about tennis as I am about basketball," Delaney-Smith said. "I expect to become a fabulous tennis player during radiation."