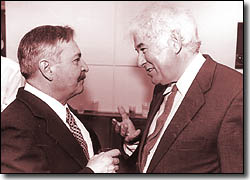 Ralph Waldo Emerson Visiting Poet Seamus Heaney will give the inaugural Stratis Haviaras Lecture, titled "Room to Rhyme," in the Lowell Lecture Hall, 17 Kirkland St., on Thursday, April 6, at 5:30 p.m.
Heaney, a 1995 Nobel laureate and former Boylston Professor of Rhetoric and Oratory, will read from his new book, a verse translation of Beowulf (Farrar Straus & Giroux, 2000), which recently won the Whitbread Prize in England. He will also read from his new poems.
A reception for Heaney and fellow poets will be held immediately after the lecture in the Forum Room of Lamont Library.
The Stratis Haviaras Lecture was established with an anonymous $25,000 gift to the Harvard English Department in honor of Haviaras, curator of the Poetry and Farnsworth Rooms in the Harvard College Library, who is set to retire this spring after 32 years at Harvard.
The lectureship will sponsor an annual poetry reading or lecture on poetry.
Haviaras is the author of four books of poetry in Greek, and one collection of poems and two novels in English. He is the founder of the Harvard Review, a national literary magazine, which he will continue to edit after retiring.
Admission to the lecture is $20, or $15 for students with a Harvard I.D. Tickets can be purchased at the Harvard Box Office, (617) 496-2222, or at the Poetry Room in Lamont Library, weekdays from 9 a.m.—5 p.m. All proceeds will benefit the Haviaras lectureship.
The Harvard Book Store will honor Haviaras on the following day, Friday, April 7, with a reception and book signing at 4 p.m. Haviaras will be joined by Heaney and Harvard poets Forrest Gander, Jorie Graham, and Peter Sacks. Haviaras' new book, Millennial Afterlives: A Retrospective (Wells College Press) will be released on March 30.