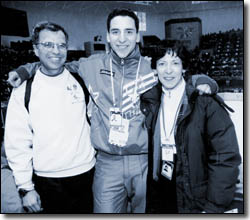 Short-track speed skater Daniel Weinstein does his family proud
Daniel Weinstein '03, is the newly crowned short-track speedskating national champion. He secured his title on Feb. 13 in Walpole, Mass., where he trains with the Bay State Speedskating Club.
Short-track speedskating is the flashy cousin to the long-track speedskating made famous by Olympians Eric Heiden, Bonnie Blair, and Dan Jansen. Athletes jostle for position as they whip around a 111-meter track at speeds of up to 30 mph. They race against each other instead of the clock.
Weinstein has an impressive athletic record. He first became interested in speedskating when he was 9 after reading about a local club in the newspaper. One year later, he tasted competition. "He found out that he was pretty good," said Milton Weinstein, the new champ's father and Henry J. Kaiser Professor of Health Policy and Management and Biostatistics at the School of Public Health (SPH).
Daniel proved so good that he became a national champion in two age groups – first for skaters under age 11 and then for skaters under age 13. He took off the fall semester of his junior year of high school to train for the U.S. Olympic speedskating trials, where he placed third. His success secured his ticket to the Olympic games in Nagano, Japan. Although he did not win a medal, he reveled in the experience.
"There's nothing like going to the cafeteria and seeing Wayne Gretzky at a table behind you and Tara Lipinsky at a table in front of you," Daniel said.
Milton Weinstein was not flabbergasted that his son won a place on the Olympic team in 1998. Daniel had focused on his training full time and had been ranked sixth going into the trials, his father said. He was much more surprised at his son's recent national victory because in addition to being an elite-level athlete, Daniel also is a full-time freshman.
"He wants to prove he can be a scholar and an athlete," said Milton Weinstein.
That task is easier said than done. Daniel gets up at 5 a.m. twice a week to hit the ice rink in Walpole, returns to the rink in the evenings three times a week, and works out almost every day. He also travels to competitions. Recently Daniel was in Holland competing in world short-track team championships, and this week he will skate in the world short-track individual championships in England.
How is he handling the challenge? "I was concerned that I would not skate so well this year," Daniel said., "but so far, so good."
Milton Weinstein helped to relieve some of the pressure of balancing coursework with competition. He and others at the Bay State Speedskating Club worked hard to win the bid to hold the national championships at the rink at which Daniel trains. The SPH researcher developed and managed a team of 100 volunteers who designed programs, organized hospitality events, and processed the entry fees and applications of more than 80 athletes for the competition.
For the record, Daniel is not the sole athlete in his family. Milton Weinstein was a marathoner and bicyclist until he broke his hip last year. Daniel's brother Jeffrey, a sophomore at Northeastern University, is a former ice hockey player.