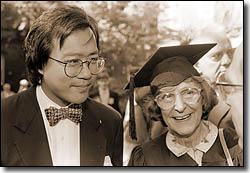 At the 1991 Harvard Commencement, Luise Vosgerchian acted as faculty escort for her star pupil, internationally acclaimed cellist Yo-Yo Ma, as he walked in the procession to receive an honorary degree. Photo by Jane Reed.
The Harvard Music Department lost one of its most inspiring and devoted teachers earlier this week when Luise Vosgerchian died of cancer in Acton, Mass. She was 77.
Vosgerchian, the Walter W. Naumburg Professor of Music Emerita, was a native of Watertown, Mass., who studied at the New England Conservatory of Music, and at the Conservatoire Nationale in Paris. She returned to the United States in 1958 and joined the Music Department at Harvard in 1959, quickly gaining a reputation for her enthusiastic and impassioned commitment to both her craft and her students. Vosgerchian was made a full professor in 1971, and was named department chairman in 1974. A concert pianist in her own right, Vosgerchian taught a number of accomplished musicians over the years, including composer John Adams and internationally acclaimed cellist Yo-Yo Ma '76, before retiring in 1990.
"I probably speak for many of her students when I say that the reason I think Luise was such a great teacher was because she was a great teacher for everybody," said Ma. "She put all of herself at the service of a person discovering what was inside of them. What she did for me was to give me a way of understanding music that allows me today to look at any piece of music, and any style of music, and get at how it was made and why it was made. And she's done that for thousands and thousands of people – to help us get at the core of a piece of music and find the mechanism to make something come to life. And that's really amazing."
Ma credits much of his later success to Vosgerchian's influence during his years at Harvard. "I've been thinking lately that what I do today is precisely because of what Luise was able to give me in those years we worked together."
Vosgerchian's legacy, however, stretches far beyond those former students who made music their career. "Luise had the uncanny ability to communicate the most profound issues of music through a non-technical language to anyone," said Senior Preceptor in the Music Department John Stewart, a longtime friend and colleague. "In her core work on the string quartet, she was able to convey the essence of human communication – all the metaphors of human experience – that was contained in that great music, so that even a non-musician could write first movement sonata form with amazing sophistication."
Another former colleague, Fanny Peabody Professor of Music Emeritus Elliot Forbes described Vosgerchian as a "wizard…vibrant in everything that she did…What an amazing understanding she had of what her ears told her of someone's musical abilities…She was like an arrow — she could get right to the heart of the matter." Forbes says that that unique skill served her both as an instructor and a musician. "She was as alive as anyone on stage. She expressed the movement and wonder of the music being performed."
Music left an indelible mark on Vosgerchian from early on. Harvard Gazette writer Marvin Hightower tells the story of how a young Vosgerchian signed up for piano lessons almost immediately after hearing her first piano recital. Several years later, when she prepared to play her debut recital, Vosgerchian noticed a misprint in the program, but she didn't seem to mind, so from then on, the spelling of her first name changed from "Louise" to "Luise."
After Vosgerchian retired in 1990, her students organized a tribute concert at Sanders Theatre. Stewart recalls fondly, "the theater was packed, and the whole audience sang a Bach chorale in her honor…and musicians from all over the world came to play for her." Yo-Yo Ma, violinist Lynn Chang, and British pianist Stephen Pruslin were among those who took the stage on that special night. The evening concluded with Vosgerchian herself at the piano, alongside Jeffrey Goldberg, to perform Stravinsky's The Rite of Spring.
In recent years, Vosgerchian remained active, and continued playing the piano. Her final concert at Harvard was at the Fogg Museum in 1998. She is survived by her husband Kamil Pagacik, two sons, Stefan and Ivan, a daughter-in-law, Denise, and two grandchildren. The funeral will be private, but the Music Department is planning a memorial service at a later date.
Jane Reed, of the Harvard News Office, contributed to this report.