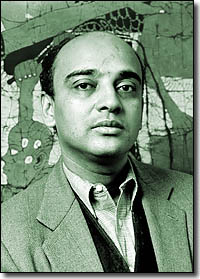 For years, Professor of Afro-American Studies and of Philosophy K. Anthony Appiah has espoused the ideal of bringing a multidisciplinary approach to the study of ethnic history and identification. Since arriving at Harvard in 1991, Appiah has worked to expand the consciousness of both blacks and whites when viewing the complexities of African history and culture. Now his purview will expand as Appiah becomes the new director of the University's South Africa Fellowship Program.
The program, which was founded in 1979 under the directorship of Alan Heimert '49, who died in November, historically awards about seven fellowships every year for mid-career South African professionals. Recipients have included union, business, academic, and government leaders.
"Harvard is very fortunate that Professor Appiah has agreed to take on the stewardship of the South Africa Fellowship Program, continuing a longstanding and important tradition begun by Professor Alan Heimert 20 years ago," said President Neil L. Rudenstine. "The University has been enriched by the presence of approximately 110 fellows, many of whom have assumed positions of leadership in various fields upon returning home to South Africa. Anthony Appiah is the ideal person – in every respect – to take on this role, and to carry it forward in the best possible way."
Appiah is determined to guide the program down the path cleared by Heimert, while also increasing its visibility in the Harvard community. "This has been a very successul program," Appiah said. "But I don't think a lot of people of Harvard know about it. We should let more people know about this because it's part of the way the University expresses its commitment to being a global citizen." The new director is convinced the program will continue to make "a modest contribution to helping develop expertise in a country that always needs more."
Appiah joined the faculty at Harvard in 1991, after teaching previously at Cambridge University, Yale, Cornell, and Duke. He grew up in Ghana, and earned his Ph.D. in Philosophy from Cambridge University in England. Appiah is the author of several books, including Color Consciousness: The Political Morality of Race (Princeton University Press, 1996), and was co-editor of The Dictionary of Global Culture (Knopf, 1996), which was later produced as a CD-ROM by Microsoft, titled Encarta Africana.