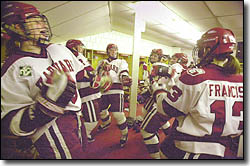 Although the 1999-2000 women's hockey season came to a disappointing end when the Crimson was not chosen for the AWCHA National Championship Tournament, the year was filled with many high points.
Ranked in the top three for the entire season, Harvard compiled a 21-5-3 overall record and a 17-4-3 mark in the ECAC. Led by juniors Angie Francisco and Tammy Shewchuk and sophomores Jennifer Botterill and Angela Ruggiero, Harvard was the top offensive team in the conference. Shewchuk led the league in scoring with 34 goals and 40 assists for 74 points. Botterill (31-31-62), Ruggiero (21-33-54) and Francisco (14-36-50) were also among the offensive leaders as Harvard boasted four of the top six scorers in the league.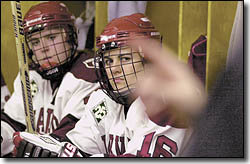 In such a successful season, it is no surprise that individual awards were plentiful for the Crimson. Botterill was honored as the Ivy League and ECAC Player of the Year and joined Shewchuk and Ruggiero on the All-ECAC and All-Ivy First Teams. Francisco also earned All-Ivy League Honorable Mention accolades.
An overtime loss to Dartmouth in the ECAC semifinals prohibited the Crimson from repeating as ECAC Tournament Champions but Harvard won its second straight Beanpot title with an exciting 4-3 overtime victory against Northeastern.