The Harvard women's basketball team has jumped out to a 10—5 record on the season, and as of Feb. 1, sits atop the Ivy League standings with a perfect 3—0 record. The team has rebounded from an injury-filled 1998-99 season (in which it finished with an uncharacteristic 10—15 mark) to find itself as one of the early favorites to capture another Ivy title, which would be its fourth in five seasons.
The Crimson is led by senior Laela Sturdy, junior Melissa Johnson, and sophomore Jennifer Monti, whose statistics rank among the Ivy's and the nations' best. Monti is first in the conference and sixth in the country in assists per game, while Johnson is ranked in the top 15 in rebounding. Sturdy is one of women's basketball's sharpest three-point shooters: her accuracy is better than 50 percent from that range, ranked third in the nation. Following is a look at the Crimson's winning ways in their last three outings.
Jan. 14: Harvard Defeats Yale, 93-77
It was an impressive performance all the way around for the Crimson, as Monti recorded a school-record 14 assists, and three other players recorded season or career-highs, propelling the Crimson to a convincing 93-77 victory over Yale in Ivy League action January 14 at Lavietes Pavilion in Cambridge. Harvard pushed its overall record to 8-5 and 2-0 in the Ivy League with its highest scoring output of the season, while Yale fell to 2-9 and 0-1 in Ancient Eight play.
The Crimson never trailed in the contest, and led 42-31 at the break. Yale battled throughout the second half, cutting the lead to five on a three-point play by Lily Glick that brought the score to 50-45 with 15 minutes to play. The Crimson then turned up the heat, steadily building their lead to an insurmountable 16 points.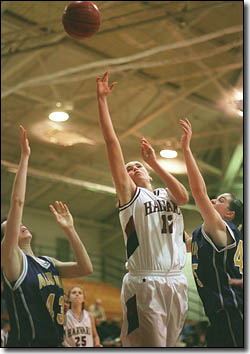 Monti finished with the most impressive effort of the night, recording 13 points to go with her school-record 14 assists. Johnson also had an impressive night, scoring 13 points and adding two career highs: she grabbed 18 assists, (tying her single-game high set earlier in the season against Sacred Heart), and she also dished out five assists.
Captain Sturdy's 21 points and 10 rebounds led all scorers, and classmate Courtney Egelhoff '00 added a season-high 18 points on 7-of-15 shooting.
Jan. 15: Crimson Hunts Down Bears, 73-64
A 32-point lead allowed the Crimson liberal use of their bench, and a late Brown surge was all for naught as Harvard extended its Ivy record to 3-0 with a 73-64 victory over the Bears at Lavietes Pavilion on Saturday, January 15.
The Crimson took a 17-point advantage into the locker room at intermission, and built a commanding 64-32 lead with 10 minutes remaining in the second half. Brown mounted a valiant comeback, and pulled within eight points (69-61) before Harvard pulled away for its third consecutive victory and ninth overall on the season against five losses.
For the Crimson, Johnson scored 15 points and added 17 rebounds and four blocks. Sturdy had 14 points, and point guard Monti finished the night with 12 points and six assists. No starter played more than 30 minutes, and all eligible players got into the game for the Crimson.
Jan. 29: Harvard dominates Albany, 68-57
The team endured the highs and lows of a rusty return to the hardwood after a two-week hiatus for exams, but pulled together over the final ten minutes of play to score a 68—57 victory over non-league opponent Albany at Lavietes Pavilion.
Harvard appeared to be on a smooth-sailing course over the first quarter of the game, jumping out to a 15-1 lead, and led 20-1 before Albany netted its first field goal, a Jess McGinlay basket at the 9:06 mark. Albany used a 21-8 run from that point and trailed by only nine at the half, 32-23.
The Great Danes came out on fire in the second stanza, using a 9-0 run over the first three minutes to tie the contest and took their first lead with 13:00 remaining, a 37-34 advantage. Albany took it's largest lead of the game, 41-34, due in large part to the Crimson shooting a cold 1-13.
After a time-out, Harvard took control of the game, using a 30-7 run to take a commanding lead over its visitors. Two key steals by Monti and a pair of free throws by the point guard brought Harvard back to within one, and the Crimson turned on the jets from there, using a 16-0 run to take the lead for good. Late three-point baskets were all for naught, as Harvard recorded its 10th win of the season, matching its win total from 1998-99.
Harvard will put its untarnished 3-0 Ivy League record on the line next weekend when the team travels to Cornell and Columbia in a pair of Ancient Eight contests.