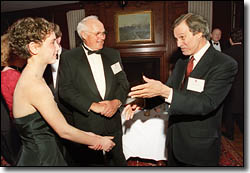 On the occasion honoring the 100th Jacob Wendell Scholar, a member of the Wendell family, Andy Thomas, recorded some of the scholarship's history as well as his own impressions of the event.
A black-tie dinner was held in honor of the 100th Jacob Wendell Scholar, Sarah Moss '02, at the Faculty Club on the evening of Feb. 5. President Neil L. Rudenstine, Freshman Dean Elizabeth Studley Nathans, other members of the College, previous Wendell Scholars, and descendants of the founder, Barrett Wendell, attended the elegant affair. The traditional single candle placed before the new scholar this time required the presence of a Cambridge firefighter for the whole evening.
The Jacob Wendell Scholarship was established by my wife's great-grandfather, Professor Barrett Wendell, in 1899, in honor of his father, Jacob Wendell, a merchant and sea captain. Professor Wendell taught English XII at Harvard between 1885 and 1918 and was well-known for his eccentric style and personality. He wore a cape and spats, and carried a cane, which, along with his red hair, Oxford accent, and flamboyant teaching style, made him a very popular figure at Harvard. His students were required to write an essay in every class.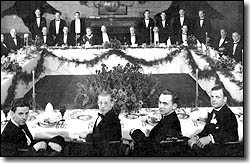 The Wendell Scholarship is awarded annually to a Harvard College student on the basis of academic achievement and contribution to the College community. It is given without reference to financial need; as stated by Professor Wendell, "the students who most merit the reward shall receive it, whether in indigent circumstances or not." By tradition, the award is made to a member of the sophomore class, chosen by a committee of the faculty on the basis of the freshman year record.
At this point I must confess that I, a Dartmouth graduate, "married into" Harvard, as my wife's entire family were Harvards, including her father, Francis Lee Higginson Wendell '38.
I met Nathalie Alsop Wendell in the lobby of the Princess Hotel in Bermuda, where I was playing rugby for the Big Green. Her college group had a package deal that included box lunches. A friend and I asked if she could obtain food for us, which she did. This kind act made me notice her more closely. Soon, we had a real romance cooking, despite the fact that I got knocked out in one game and had to be reintroduced to her as the result of losing my memory. Fortuitously, and fortunately for me, many of her relatives were in Bermuda that week and I was invited to meet them Easter Sunday, 1958. I passed muster, but it took her father 25 years to like me, presumably because I was Green, not Crimson.
Later in our marriage, I was introduced to the Wendell Scholarship dinners and became increasingly engaged in the lore, people, and history. Nathalie's uncle, Barrett Wendell Jr. '36, noted my interest and asked me if I wanted to be groomed for his job as the "family representative." I enthusiastically accepted, and this "promotion" for me was duly noted by my father-in-law. As a result, we became very close friends until his death in 1994.
My esteem for the annual event has never ceased, and I will always enjoy my role, even though I'm not a blood relative. The matriarch of the living Wendells associated with the dinners is Barbara Wendell Kerr, our hostess each year. She is an amazing woman and soon will reach her 89th birthday. The Wendell Scholarship is unique in that it is the only known Harvard scholarship that involves the donor family every year.
Among the 61 Wendell Scholars still living are: Sam Shaw '54, a retired John Hancock actuary; Peter Goldmark '62, CEO of the International Herald Tribune; John Baldwin '71, dean of the Dartmouth Medical School and a Harvard overseer; John Merrifield '55, psychiatrist; Professor Herman "Dutch" Leonard '74, Kennedy School of Government; William Frerking '66, an abbot; Jim Lehrich '58, associate professor of neurology at Massachusetts General Hospital; and Adolf Gundersen '47, an expert in Lyme disease.
Harvard Professor Emeritus Mason Hammond '25 is the oldest living Wendell Scholar.
Scholarship awards are administered yearly by the Freshman Dean's Office. Dean Nathans and her assistants, Burriss Young and Cathy Rawding, work tirelessly on each annual dinner.
Each year, a selection committee is formed by invitation from Dean Nathans' office. This year's team included Burriss Young; Professor Kenneth Boss; Dutch Leonard; Noah Feldman, of the Society of Fellows; Professor Emeritus Barbara Rosenkrantz, FAS; and Professor Richard Thomas, Kennedy School of Government.
The selection process involves detailed interviews of approximately 12 finalists culled from nearly 100 applicants. Students who achieved a Group I (highest level grade point) average at the end of the first undergraduate year receive invitations to apply.
The scholarship includes two summer grants to fund significant educational experiences reviewed and approved by the scholarship committee, and a check presented at the scholarship dinner.
The award affair is simply elegant. There are no speeches – only brief toasts in honor of the founder, departed scholars, and the new honoree.
Upon arrival, guests sign, in ink over pencil, a chart showing seating arrangements. As refreshments are served before dinner, lively conversations develop. On a nearby table are three and one-half volumes of pictures of past scholars, family, faculty, and staff, and seating charts. Covering a 101-year period, the contents are captivating. Dinners have been held every year since 1900 except for 1924, when, out of respect for the passing of Professor Wendell, the fete was cancelled.
This year's scholar, Sarah Moss '02, from Normal, Ill., is concentrating in mathematics. Her index of accomplishments is truly remarkable, and she is a very busy person, taking violin lessons at the Longy School of Music and playing in the Harvard-Radcliffe Orchestra. She is a past member of the Harvard Women's Ultimate Frisbee Team, and a volunteer tutor at Josiah Quincy Elementary in Boston.
Her between-term work has included orchestra librarian at the Normal Public Library and waitress for Steak 'n Shake Restaurant.
A partial list of her honors includes the Detur Book Prize, John Harvard Honorary Scholarship Award, Elizabeth Cary Agassiz Honorary Scholarship Award, and the American Math Council "Honor Roll of Distinction."
Asked how she wants to use the monetary award, Moss said, "I haven't decided yet, but it will either be a new violin or flying lessons."
Happy flying, Sarah, and welcome to the family of scholars!