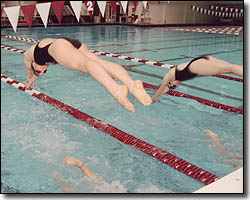 " Big Three" rivals Harvard, Yale, and Princeton tangled poolside last weekend, as men's and women's swimming and diving meets yielded mixed results at Blodgett Pool.
The Crimson men emerged victorious and moved a big step closer to their second straight Eastern Intercollegiate Swimming League (EISL) dual championship. The women outdistanced Yale, but came up shy against Princeton and were denied their first undefeated dual campaign since 1988-89.
The Harvard men topped Princeton, 192.5—160.5, and Yale, 215.5—137.5. The 1999 All-American, Tim Martin '00, dominated the competition in the 1650 freestyle to win by 9 seconds while Crimson competitors took the top five spots in the 100 freestyle, with junior Jamey Waters out in front. Senior Michael Im swam to victory in the 100 backstroke and a pair of freshmen had strong efforts with Dan Shevchik capturing the 200 backstroke and Erik Patton placing first in 3-meter diving.
The Crimson women left Yale in their wake with a 189—111 victory, but couldn't overcome the Princeton squad and lost, 182—118. Even so, Harvard senior Nancy Jo managed to capture the 200 free while classmate Alexis Todor took the 100 breaststroke. Junior Karen Milkosky was victorious in the 400 individual medley and freshman Lovisa Gustafsson won the 500 free.