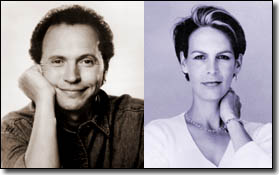 The Hasty Pudding Theatricals, the nation's oldest dramatic organization, announced the recipients of the 2000 "Woman and Man of the Year" awards: Jamie Lee Curtis and Billy Crystal.
The 50th anniversary of the Woman of the Year celebration will be Thursday, Feb. 10. Curtis will lead a parade through the streets of Harvard Square at 2 p.m. and will receive the "Pudding Pot" at 2:30 p.m. in the Hasty Pudding Theatre. The Hasty Pudding Theatricals' 152nd production, The Jewel of Denial, will be previewed at 2:45 p.m.
The Man of the Year presentation will be Thursday, Feb. 17. Crystal will receive his "Pudding Pot" at 8 p.m. in the Hasty Pudding Theatre, prior to the start of the opening night performance of The Jewel of Denial.
The "Woman and Man of the Year" awards are presented annually to performers who have made a "lasting and impressive contribution to the world of entertainment." Established in 1951, the "Woman of the Year" award has been granted to many talented and distinguished entertainers including Katharine Hepburn, Meryl Streep, Sally Field, Glenn Close, Jodie Foster, Meg Ryan, Susan Sarandon, and Julia Roberts. The "Man of the Year" award was established in 1963 and includes among its list of past recipients Paul Newman, John Travolta, Robert DeNiro, Steven Spielberg, Robin Williams, Tom Cruise, Harrison Ford, and Mel Gibson.
Jamie Lee Curtis is a multitalented actress who has won Golden Globe awards for her starring roles in the motion picture True Lies and the hit sitcom Anything But Love, for which she also won a People's Choice award. Recently she starred in Halloween: H20, the 20-year sequel to Halloween, the now-classic film that first brought her to the attention of audiences worldwide. She received critical acclaim for A Fish Called Wanda and has also starred in Virus, Forever Young, My Girl, and Trading Places, for which she won a British Film Academy Award. She will next appear in Daddy and Them and Drowning Mona.
Billy Crystal has created one of the most versatile and prolific careers in the entertainment industry, winning six Emmy Awards, six American Comedy Awards, and seven Cable Ace Awards. He began his career with great success on Soap and Saturday Night Live, and most recently starred in Analyze This with Robert DeNiro. Other notable film credits include The Princess Bride, When Harry Met Sally, City Slickers, Mr. Saturday Night, Hamlet, and Deconstructing Harry. A dedicated human rights advocate, he has co-hosted with Robin Williams and Whoopi Goldberg all eight Comic Relief telethons on HBO; these have raised more than $40 million for the homeless. He has hosted the Grammy awards three times and this March he will host the Oscars for a seventh time.