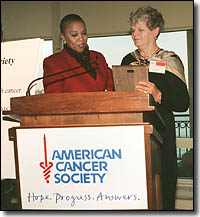 While other funding sources balked, the American Cancer Society decades ago funded Andrus Professor of Pediatric Surgery Judah Folkman's research into ways to cut off the blood supply to cancerous tumors.
Today, Folkman's research – and the anti-angiogenesis drugs it has spawned – is being hailed as a new hope in fighting cancer. And the American Cancer Society is still raising money for research, sometimes gambling on research that others might not back.
The Cancer Society honored Harvard University Monday for being the largest single contributor in Massachusetts during last year's Daffodil Days fundraiser, one of the society's three largest fundraisers annually.
Harvard's involvement with Daffodil Days started in 1988, when Rita Corkery, former associate director of community relations in the Office of Government, Community and Public Affairs and a cancer survivor, coordinated Harvard's first effort, which raised $2,500.
Last year, Harvard staff, students, and faculty bought nearly 6,000 bouquets of daffodils, raising $28,000 for the Cancer Society.
Carole Lee, department administrator for the Office of Government, Community and Public Affairs, and the current coordinator of the University's Daffodil Day campaign, accepted the award for the University at a luncheon to kick off this year's Daffodil Days at the Boston Harbor Hotel in Boston.
Lee thanked those who help with the program, including the Departmental coordinators – 99 of them – who do the legwork in getting the word out to colleagues about the fundraising program. After the luncheon, Lee said the Daffodil Days program draws universal support because cancer is so common in society.
"There's not one of us who's not been touched by cancer," Lee said.
Helene Palmer, the Cancer Society's regional executive for development in Cambridge, said she has just begun fundraising in Cambridge, and is both encouraged and a bit daunted by Harvard's enthusiasm.
"I'm lucky, but a bit overwhelmed to be inheriting Harvard because it's a magnificent effort," Palmer said. "It just takes a very special breed of volunteer and people with a special heart."
Lee said many people were essential to Harvard's effort last year, which she said raised about $4,000 more than the previous year's $24,000. Among the driving forces of Harvard's Daffodil Days campaign, Lee said, are the coordinators for the Harvard entities that were the top bouquet-sellers last year, namely Maureen Leary and Kay Lawless at Harvard Law School, Peter Conlin at the University Development Office, and Donna McLean and Jennifer Moltin at the School of Public Health.
Lee also thanked Ursula Moore, manager of Harvard University Mail Services, who has taken over the distribution of the flowers, much to Lee's relief. Now, instead of Lee having to recruit volunteers to distribute 6,000 bunches of daffodils, University Mail Services workers deliver the flowers along with their regular mail deliveries.
Each year for more than a decade, Daffodil Days coordinators have fanned out across the University and taken orders for bunches of 10 flowers. The bunches are being sold for $5 each.
In addition to research, Daffodil Days funding goes to cancer detection programs, education, and patient services, such as transportation of cancer patients to treatments, one-on-one support for women with breast cancer, tobacco control education, and mammography outreach.
Cancer Society officials say they're hoping to raise $2.8 million this year in New England, up from last year's $2.6 million.
" Daffodils are the first flower of spring, the American Cancer Society symbol of hope, hope that more lives will be saved from cancer," Don Gudaitis, CEO of the Society's New England division, said at the luncheon. "You [Lee and other Daffodil Days coordinators] are making a difference when you read about progress in research, when you read about tobacco control in Massachusetts."
Research into new cancer treatments has paid off over time. Five-year cancer survival rates have risen from about 41 percent in the 1980s to more than 60 percent in the 1990s.
"That's clear progress over a very short period of time," Gudaitis said.