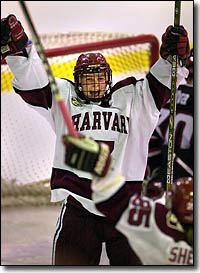 Harvard sophomore Jennifer Botterill's overtime goal gave Harvard (15-4-3) a 4-3 win over Northeastern in the championship game of the 22nd-annual women's Beanpot Tournament at the Bright Hockey Center.
Botterill, cutting toward the left post, took a feed from linemate Tammy Shewchuk '01, and one-timed the puck past goalie Erika Silva for the game-winner. It was Botterill's second goal of the night, having scored in similar fashion at 13:20 of the second period to tie the contest at 2-2. She also assisted on sophomore Angela Ruggiero's power play strike two minutes later that put Harvard ahead briefly, 3-2. Botterill, who had two goals and two assists in a first-round victory over Boston University, was named the tournament's MVP.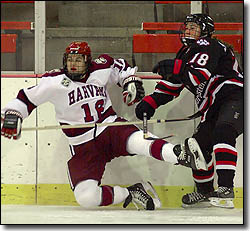 Northeastern jumped on the board first and after Shewchuk tied things up with a power play tally at 11:48, the Huskies regained the lead on a goal by Lisa Giovanelli at 16:50.
Northeastern also netted the final goal of the second to tie things at 3-3. The game was scoreless in the third period, forcing the extra session. Goalie Crystal Springer '00, had 20 saves for the Crimson, including seven in the third period and one in overtime. Kalen Ingram '03, assisted on three Harvard goals, including the winner in overtime.
The Beanpot title is Harvard's second straight and its sixth overall. For Northeastern, which has won 14 Beanpot crowns, it marked the second year in a row they have fallen victim to a Botterill overtime goal in the Beanpot. It was also the second time that the championship game had gone into overtime.