100 Years of Encouraging and Supporting Volunteerism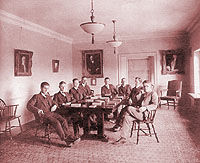 1917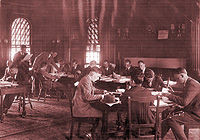 1922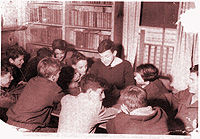 1940's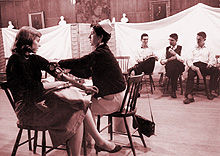 1958
Its elegant meeting rooms have seen the likes of Franklin D. Roosevelt, Lani Guinier, and ACLU founder Roger Baldwin. Its programs have served as models for the Peace Corps and the National Service Corps.
Named for one of the 19th century's most famous preachers, Phillips Brooks House (PBH) began life as an organization promoting Christian good works. Now, 100 years later, it brings out the best in students regardless of religion or creed. But in essence, it has remained true to its original purpose – to encourage and support volunteerism among Harvard students.
This past Sunday, PBH celebrated its 100th anniversary with speeches, music, and refreshments, including a cake in the form of the house itself. Sponsored by the Phillips Brooks House Association (PBHA), the celebration featured a talk by Peter Gomes, the Plummer Professor of Christian Morals and Pusey Minister in the Memorial Church.
Gomes' remarks brought to life the man for whom the house was named, Phillips Brooks, Class of 1855. An Episcopal minister and the author of the Christmas carol "O Little Town of Bethlehem," Brooks was renowned for his sermons at Trinity Church in Copley Square, as well as for his support of undergraduate volunteer efforts at Harvard.
Brooks died in 1893 at the age of 60. "Not since the death of Lincoln had Boston mourned so, and it would not be until the death of John F. Kennedy that they would do so again," Gomes said.
The evolution of PBHA has been chronicled in a Harvard honors thesis, Babbling Brooks: A History of Phillips Brooks House by Donald Henry Gips '82. Beginning as an embodiment of Christian teachings, PBHA served as a center of Red Cross activities during World War I. In the 1920s, PBHA became more secular in its approach to social problems. Later, under the New Deal, undergraduates enrolled in record numbers to serve as tutors to local youngsters.
During World War II, many students worked in hospitals and sold stamps and bonds to support the war effort. In 1954 students formed the Mental Hospitals Committee, an organization that sent volunteers to befriend mental health patients and help them readjust to society. This program served as a model for the National Service Corps, now Americorps.
During John Kennedy's presidency many more students became active in social service programs. One group, Project Tanganyika, sent students to Africa to teach English. President Kennedy modeled his concept for the Peace Corps on this effort.
The late 1960s and early 1970s were a low point for student social service participation. But things picked up again in the late 1980s and '90s, leading to record numbers of students involved in volunteer organizations of all types. Today PBHA oversees 73 programs comprising approximately 1,800 volunteers.
The statistics are impressive, and yet Gomes in his remarks downplayed their significance, and spoke instead of PBHA's spirit.
"I am willing to argue that when all is said and done, in good times and bad, this House is defined not so much by its statistics, as by the Spirit which gives life to old ideals, courage to the young and foolish, stamina to the old and weary. . . . As long as this work remains to be done, and there are Harvard students to do it, the memory of Phillips Brooks will remain alive, and the work of Phillips Brooks House will remain good work – God's work – to do."
1990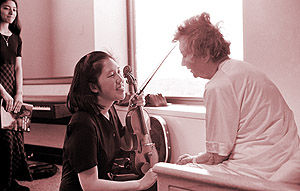 1997