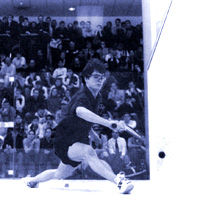 When men's squash co-captain, senior Tim Wyant, speaks of being a part of the Harvard program, his pride is evident.
Thirty-one national team championships. Twenty-four Potter Trophies. Thirty-three Ivy League titles. Twenty-six individual national champions. One hundred and twelve All-Americans.
"It is simply incredible," states Wyant, a 21-year-old with the tireless court demeanor and competitive fire of a world-class player. "The tradition of success here is unlike any other team in any other sport – anywhere. The names of the successful individuals who have come through this program go on and on, and I feel a real sense of heritage every time I step on the court."
Wyant has lived up to the program's stellar history. He enters his senior season with an impressive 34-3 record in dual match play and 16-1 against Ivy League foes. The Cincinnati native has garnered All-American and All-Ivy League honors in each of his three seasons. He was a First Team All-American both last year and as a sophomore, after earning a spot on the Second Team as a freshman. Wyant is on pace to become Harvard's first four-time All-American since Adrian Ezra '94, who won more individual national titles (seven-four wide court and three narrow) than any other collegiate squash player in history.
The son of John and Margaret Wyant, who both work in finance, Wyant is the third of four children. His brother, Jack, who is four years older, is the person most responsible for getting him interested in squash.
When Jack was just 10 years old, he began playing competitively at the Cincinnati Country Club, and Tim could not help but want to emulate his big brother.
Even at a young age, Wyant loved everything about squash: the speed, the physical demand, and the mental challenge. After getting the hang of the sport recreationally, he joined the Cincinnati junior squash program and quickly became addicted. He played all the time and proved to be a fast learner under the tutelage of coach Don Mills (who also coached former Harvard men's captain Neal Tew '93 and women's captain Libby Eynon '95).
Wyant played in his first out-of-town competition at age 7. He vaguely remembers losing early in that inauspicious beginning, but has been winning ever since.
While soccer brought him outside into the crisp fall air every year as a youngster, Wyant was always more involved and committed to squash. He continued to play in the junior squash program while at Seven Hills High School, where he earned a varsity letter on the soccer team. And despite earning all-state soccer honors while leading his high school to the league title as a senior, Wyant's most cherished memories of that time involve squash.
His decision to attend Harvard was also dependent upon squash. On one hand, he was tempted by Princeton because both Jack (class of '96) and older sister, Missy (class of '98), had enjoyed All-America squash careers there, and the temptation to continue the family tradition was strong. On the other hand, Tim wanted to blaze his own trail . . . and where better in the world of collegiate squash than Harvard?
In the summer before his freshman year at Harvard, Wyant earned the opportunity of a lifetime. He was one of four players selected to the United States Junior Squash World Team for a tournament in Egypt. Along with teammates David McNeely (currently a senior and top-ranked national player at Amherst), Preston Quick (a senior and top-ranked player at Trinity), and Peter Kelly (a sophomore at Princeton who was last year's Ivy League Rookie of the Year), Wyant helped the U.S. to a 15th place finish among 24 nations – the best showing ever for an American junior team. Energized by that performance, and by the breathtaking sights in Egypt, such as the Pyramids of Giza, Wyant was more excited than ever to embark on his collegiate squash career.
Ironically, his first few months in Cambridge were fueled by unexpected excitement on the soccer field. Wyant made the team as a walk-on and was a part of the Crimson's most successful men's soccer season in recent history (16-2 record, Ivy League title). His status elevated to a starting role as a sophomore but, as a junior, he decided to concentrate solely on squash.
One shouldn't think, however, that Wyant was distracted on the squash court in his first two years. As a freshman, he went 12-1 while playing the number four slot. He followed that with a perfect 11-0 mark in his second year.
It was last season, however, when Wyant truly elevated his play to the next level. After compiling an 11-2 regular-season record, he entered the National Intercollegiate Squash Racquets Association (NISRA) Individual Championships as the ninth seed. Over the course of an action-packed weekend at the University of Pennsylvania, Wyant recorded upset upon upset to storm his way into the finals. Among his victims were the two-time defending national champion, Trinity's top-seeded Marcus Cowie, in the quarterfinals, and Akhil Behl, Wyant's arch rival from Trinity, in the semis. Wyant's amazing run was halted in the championship by Princeton's Peter Yik, but the foundation had been set.
"Having come so close last year, there's no question my individual goal this year is to win a national title," said the comparative religion concentrator, who is writing a thesis comparing the political thought of Tolstoy and Gandhi. "But more importantly, I want my final collegiate team to go out a national champion. Trinity took that from us last year, and it's time that distinction came back to Harvard."
First-year Harvard coach Satinder Bajwa, who was at Bowdoin College last year, knows that he has not only a special player, but an extraordinary captain in Wyant.
"Tim is a coach's dream," says Bajwa. "He is 100 percent dedicated to this program, and he is constantly taking extra steps to ensure this team's success."
Wyant's pride would allow no less.