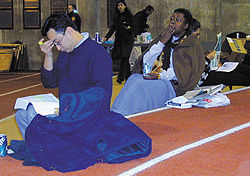 Cambridge Emergency Management Director David O'Connor was on the scene as an underground electrical fire forced hundreds of Harvard graduate students and their families to evacuate from Peabody Terrace on Sunday. But O'Connor, whose job it is to oversee such incidents for the city, had an advantage he doesn't have with most of Cambridge's other private landlords.
"I knew we could rely much more heavily on Harvard's resources in this case than we can otherwise," O'Connor said. "The city and Harvard have been working together for 364 years."
Harvard's response to the underground fire at Peabody Terrace involved personnel from about a dozen University agencies and departments. Joining Harvard people on the scene were Cambridge Fire Department and Inspection Services personnel as well as workers from Cambridge Electric, which provides power to the complex.
Benefiting from the cooperation among the many groups were several hundred graduate students, their spouses, and children, who were thrust into the bitter Sunday morning air by an electrical fire that leaked smoke and carbon monoxide into the complex.
"The University has this infrastructure for support in operations like this. We didn't have to call an outside environmental unit to help. We didn't have to call an outside bus company," said Susan Keller, director of residential real estate for Harvard Planning and Real Estate. "Those relationships were key in making things work."
On the scene Sunday were personnel from the Harvard University Police Department and several University Operations Services units, including shuttle bus drivers, fire group and university operations center personnel, electrical engineering and utilities workers, and building operations staff. Public Affairs staff were also on hand to manage media interest in the incident.
Harvard Planning and Real Estate (HPRE), which manages Peabody Terrace for the University, took a lead role in managing the situation. HPRE had its own managers on the scene providing critical assistance to those who were evacuated and important information about the building's physical setup.
Dining Services also pitched in, creating meals for the 300 to 400 Peabody Terrace residents who were temporarily housed at the Gordon Track. University Health Services Director David Rosenthal helped obtain medication for those whose prescription drugs were left behind. And Kathy Bray, manager of freshman dormitories for the Faculty of Arts and Sciences, had extra mattresses and bedding trucked over to Gordon Track in case an overnight stay was needed.
Environmental Health and Safety personnel were also at Peabody Terrace, working side-by-side with Cambridge firefighters to test the air for carbon monoxide. University Information Services also offered help, providing cell phones to workers and residents to help keep communication lines open.
Peabody Terrace, which has 495 units of graduate student housing, was evacuated at around 11:30 a.m. Sunday after Cambridge firefighters responding to a report of the smell of smoke found elevated carbon monoxide levels.
Officials now know that a slow-burning fire had started in underground wiring owned by Cambridge Electric, which supplies the complex with electrical power. The smoldering fire was in an underground conduit in the courtyard between buildings, forcing smoke and some carbon monoxide gas into the buildings.
Though Peabody Terrace provides housing to roughly 1,300 graduate students and their families, Keller said many fewer than that were evacuated because many were away.
Peabody Terrace Property Manager Pamela Cornell arranged shelter for the evacuees, first, with the help of the city, in Cambridge's Martin Luther King School, and also in nearby Mather House. University shuttle buses were then called in to transfer the Peabody Terrace residents to the Palmer-Dixon Tennis Courts. They were later moved to the Gordon Indoor Track and Tennis Facility after a track meet there concluded.
Residents were allowed back into the building at about 9:30 p.m., after extensive air quality testing showed that the complex was safe.
Even though University officials believe the incident was handled well, they're analyzing their response to see how it could have been handled better. A debriefing Tuesday afternoon pointed out areas where communications could be improved and where certain supplies that had to be purchased Sunday, such as infant formula and diapers, could be stockpiled as emergency supplies.
Admitting residents back into the complex was not the last of it, however. The original damage remains to be repaired. Because the power will again have to be shut off to effect the repairs, the work will likely be done midnight to 3 a.m. one night this week. Since fire systems will be down while the work is done, backup fire safety personnel will be on site that whole night.
"I'm very pleased with the way that [response] came together," said Thomas Vautin, associate vice president for facilities and environmental services. "People did what they had to do and worked together as a team."