Dean of the Faculty of Arts and Sciences Jeremy R. Knowles has announced the appointment of two new deans to oversee undergraduate and graduate education.
Professor of History Susan Pedersen '82 will become the dean of undergraduate education on July 1, succeeding Reisinger Professor William Todd III. Harvard College Professor Peter Ellison, currently associate dean of the Faculty of Arts and Sciences (FAS), will become the dean of the graduate school, succeeding Mason Professor Christoph Wolff.
"These appointments occur at a moment of great challenges and great opportunities," Knowles said. "I am delighted that we shall benefit from the leadership of two colleagues of such unquestioned dedication and distinction."
Pedersen, who currently chairs the Historical Studies subcommittee of the Core Curriculum, plans to continue strengthening the Core. She hopes to increase the Core's offerings, attract more faculty, and foster close contact between students and faculty.
Pedersen also hopes to counter the trend toward pre-professionalization. She encourages students instead to "follow their own star."
"The pressures on undergraduates to treat education as professional training are much more intense than they were some 20 years ago," Pedersen said. "I think it is crucial that we hold to the ideal of the undergraduate years as a time for intellectual adventure and risk-taking."
Pedersen's own "adventure" took her from a summa cum laude degree in social studies to a master's and a Ph.D. from Harvard in history. She became an assistant professor at Harvard in 1988, an associate professor four years later, and received tenure in 1995.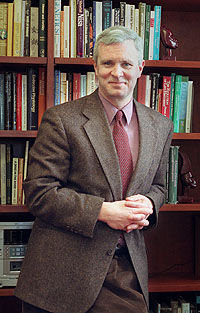 Ellison, who received his Ph.D. in anthropology from Harvard in 1983, also became an assistant professor at the University immediately upon graduation. He was promoted to associate professor five years later and received tenure in 1990. Ellison chaired the anthropology department from 1992 to 1998, and he has been a curator of human biology in the Peabody Museum since 1990.
"I think it's a wonderful moment for the graduate school," Ellison said. "We're in a unique position to move forward and think about ways we can make the graduate school stronger for the next decade and beyond."
Ellison plans to continue revising the structure of graduate financial aid, a major project he helped initiate as chair of a Faculty committee investigating this issue in 1997. He also anticipates working with Harvard's professional schools to create new Ph.D. programs. Ellison assumes leadership of the Graduate School at a time when its contours are unusually plastic, given new growth fields such as genomics and other interfaculty initiatives.
Pedersen and Ellison will often work together.
"The graduate students, undergraduates, and faculty stand at vertices of a triangle," Ellison said. "Each one interacts closely with the other two and draws tremendous strength and vitality from the interactions."
In his letter to the Faculty, Knowle s expressed his appreciation of outgoing deans Todd and Wolff.
"They have served the Faculty wonderfully, stylishly, and unstintingly," Knowles said.