What can take the place of real-life, tactile experience when that would mean allowing whole classes of students to paw through an illustrated manuscript nearly 250 years old?
The International Image Interoperability Framework, or IIIF.
Just ask art history Professor Jinah Kim, who last semester took students in her "Painting of India" class to Houghton Library to view a Persian text from 1778. The nearly 500-page book is filled with vibrant full-color images and handwritten adventure stories.
Students couldn't examine the entire manuscript during class: There was too little time, and it would have been hard on the document. Instead, they were able to engage more deeply with it online, flipping through its pages and zooming in so close on illustrations they could make out brush strokes. Kim told them to "play" with the manuscript, compare its pages or place it side by side with similar works. They could add their own annotations on top of the illustrations and share their analyses with Kim in a shared workspace.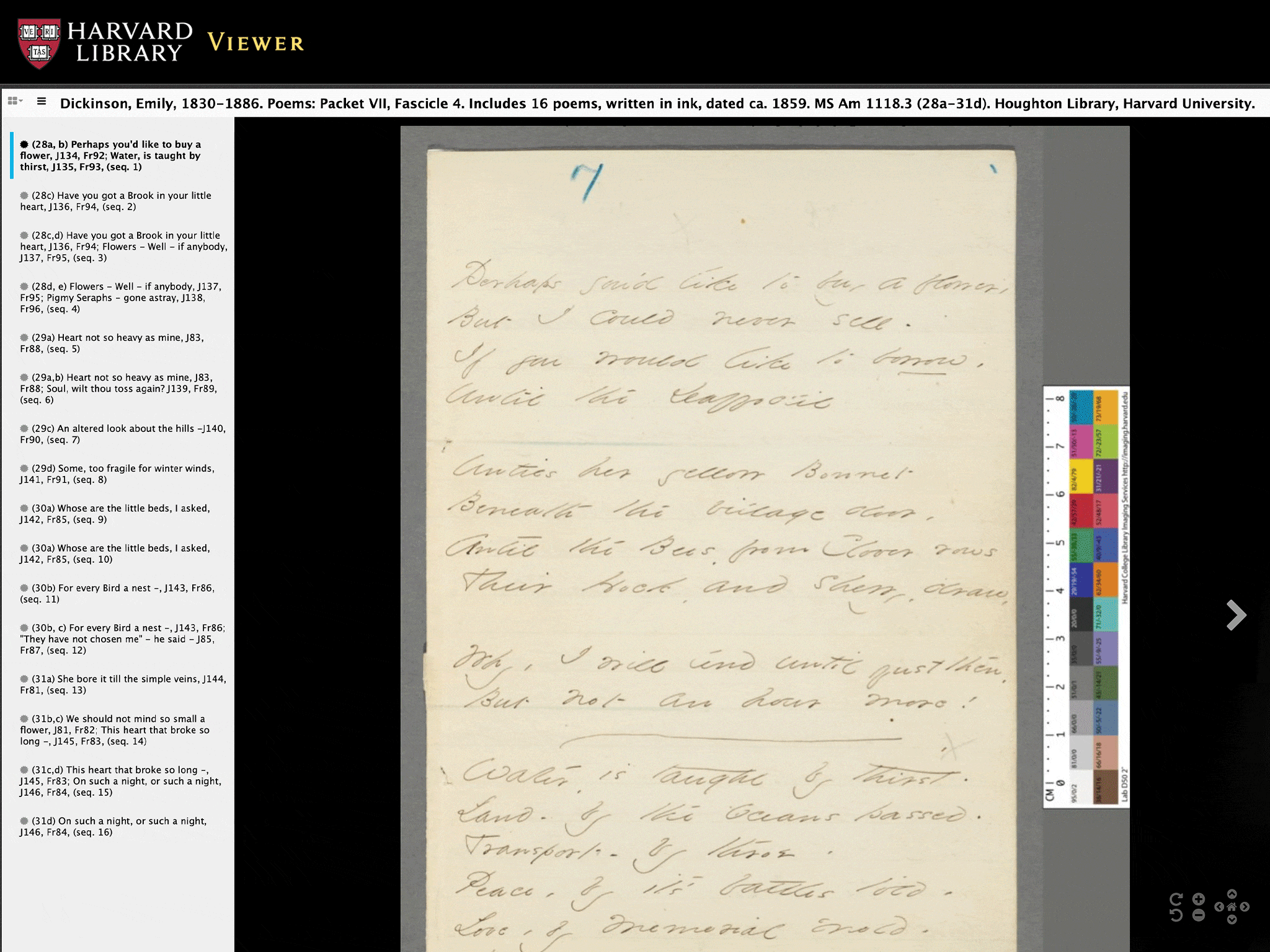 Engaging with images has come a long way since Kim, the George P. Bickford Professor of Indian and South Asian Art, was a student herself. At that time, more than 20 years ago, students could only view images of the art they were studying printed in books or projected as slides in a classroom.
Today, Kim said, IIIF gives students as-good-as, or better-than, in-person examination of the works they're studying. IIIF is an open-source technological framework that has become the universal standard for online, high-resolution viewing of cultural heritage images like paintings or manuscripts.
Developed in 2011, IIIF was originally intended for viewing digitized medieval manuscripts, Harvard Associate University Librarian and Managing Director of Library Technology Services Stuart Snydman explained. But it was soon clear that its applications went far beyond this one use.
Since its inception, the database of cultural heritage images available for free online with IIIF capability has continued to grow. In 2022, the IIIF community estimated that between all their participating cultural heritage institutions, they've made available more than 1 billion items available.
"With IIIF, we're investing in the cultural heritage image community," Snydman said. "Our goal is global, universal, as open as possible. It's not just about Harvard's images; it's about enabling students and faculty to interact in the very same way with images at Oxford, the Library of Congress, or the Vatican that they do with images held at Harvard. The code word for this is interoperability."
Of the 1 billion IIIF-compatible items, about 6 million are held in Harvard's library collections. Everything from 500-year-old maps to modern photographs are viewable in high resolution by anyone with an internet connection. Emily Dickinson's pencil strokes can be magnified and examined, and Persian manuscripts like the one studied by Kim's class can be compared with illustrations from the same region and period held at the Library of Congress.
Rashmi Singhal, at HUIT Academic Technology, has been working on IIIF at Harvard for 10 years. She was hired in 2013 as a software engineer to build the 2.0 version of Mirador, the IIIF image-viewing application Harvard uses, and to make Harvard's existing digital collections IIIF-compatible.
Her unit and Harvard Library Technology Services worked closely with Harvard faculty and with staff at the Harvard Art Museums to build out Harvard's IIIF compatibility. Library chief of staff Franziska Frey said the coalition around IIIF was collaborative across the University.
"From the beginning, we were adamant about it being a true collaboration," said Frey.
With continued cooperation, Harvard has built out its IIIF capabilities over the last decade and created several applications for scholars to make the most of IIIF.
Singhal said she sees some researchers using the Mirador image viewer's "deep zoom" feature to transcribe difficult-to-read handwritten manuscripts, while others use its "workspace" feature to pull together pages of the same manuscript held at different institutions to examine them at once.
"You're not going to be able to see with the same level of detail in person as you can with deep zoom," she said, "and if a manuscript's pages are held separately, you can't 'page through' it physically, but you can digitally. IIIF has really revolutionized scholarly examination of some of these materials."
IIIF also enables interactive virtual exhibitions and collaborative online research projects, like Kim's "Mapping Color in History." A key part of the project, which is a searchable database of pigment analysis in Asian paintings, was possible because of her ability to annotate on IIIF images, Kim said.
"With digital access and IIIF, you can see an image, manipulate it, and even add your own things to it," she said. "It really opens a door for interesting possibilities to engage with images."
While IIIF-savvy scholars like Kim think creatively about future uses for IIIF, those on the technical side also appreciate its implications in terms of educational access.
"The fact that IIIF has been able to become a universal standard, and that it's all open-source — that has exciting implications for democratized learning," said Snydman. "Students and scholars of all ages have the opportunity to learn with images — not just in a physical classroom or library, not just during certain hours, and not just on Harvard's campus. This is a great example of how technology can be used to minimize inequalities in education and give open access to knowledge."