Among the popular stereotypes of the Muslim religion, perhaps none is more widely held than the belief that Islam suppresses women.
Not so, says Islamic studies scholar Celene Ibrahim, M.Div '11. In fact, she says, Islam is an "equal-opportunity religion," whose principles "affirm women's pursuit of knowledge and literacy; affirm women's inheritance, earning and managing of wealth; and affirm women's spiritual potential."
Ibrahim, a scholar in residence at Hebrew College and Andover Newton Theological School and a Muslim chaplain at Tufts University, addressed the stereotypes at "Muslim Feminism," the second of three Faculty of Arts and Sciences Diversity Dialogues.
Ibrahim cited a 2011 Pew Research Center study that found "a median of 58 percent [of respondents] across four Western European countries, the U.S., and Russia, called Muslims 'fanatical.'" She said the media shapes much of the American perception of Muslims as angry and oppressive.
Ibrahim acknowledged that while Muslim women are oppressed in some countries, Islamic theology is highly woman-affirming. "Muslim feminists often struggle … to reform misogynistic ideas, customs, and/or legal codes that don't reflect the teaching of the Prophet Muhammad," she said.
In addition, she said, in places like America, much of what Muslim women do is a matter of choice. "There is great diversity in the Muslim community," she said. While some Westerners may assume that Muslim women who wear clothing that covers everything but their eyes, pray in gender-segregated spaces, or attend women-only athletic facilities are being forced into an unwanted modesty, "There are some spaces where gender segregation is appropriate," Ibrahim said.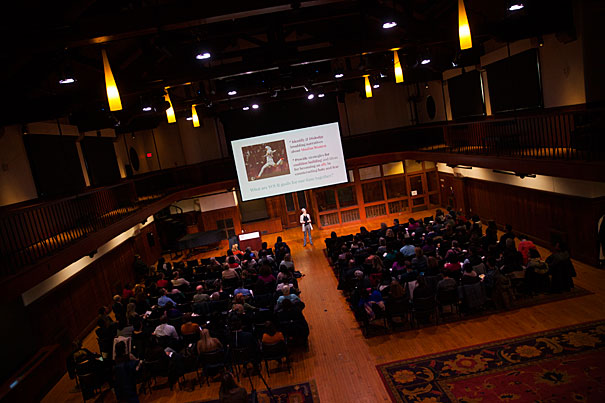 Ibrahim talked at length about the symbolic, religious, and practical purposes of the hijab, the headscarf worn by many, but not all, Muslim women. The headscarf is a symbol that has a certain power, she said.
"Wearing the headscarf is a matter of feminism, aesthetics, and solidarity for me," she wrote in a New York Times op-ed piece earlier this year. "The hijab is fun and dignifying … it's part of my morning routine."
Non-Muslim women who want to show support sometimes participate in the annual Feb. 1 Hijab Solidarity Day, but Ibrahim cautioned that some people believe that may hurt women who wear them every day of the year.
"Some say that only perpetuates the sexist dogma of conservative clerics," she said.
Ibrahim also challenged the misconception that Muslim women are not allowed to pursue education. She pointed out that Muhammad directed that every person must seek knowledge, regardless of gender.
"Seeking knowledge is a duty upon every Muslim," she said. Citing as examples Farah Pandith, the State Department's first ever-special representative to Muslim communities; architect Maryam Eskandari; sitcom creator Zarqa Nawaz; and Ghazala Khan, the gold star mother of a U.S. Army captain killed in Iraq, Ibrahim said, "For Muslim women there is not a single path. Their influence is broad and takes many different paths."
Joshua Dunn, procurement administrator in the FAS Office of Administration and Finance, one of the more than 130 people who attended the dialogue at Radcliffe Institute's Knafel Center, said Ibrahim "challenged me to think outside the box about what it must be like to a Muslim woman living in the U.S. … Certain customs might be a matter of perspective and we should not automatically view [them] as oppressive.
"I thought she laid out a compelling vision of feminist ethics and the virtues of a pluralistic society that values all cultures and religious beliefs," he said.
The Diversity Dialogues are offered by the FAS Dean's Office, FAS Human Resources, and the FAS Office of Diversity Relations and Communications. The third and final dialogue for the academic year, "Overcoming Obstacles," featuring Eric Alva, retired Marine staff sergeant and gay rights activist, will take place on April 5, 2017.
Save
Save
Save
Save
Save
Save