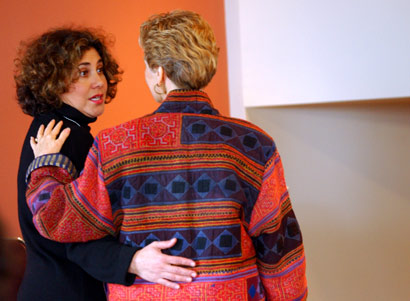 What scholars, policymakers, and practitioners were doing at the Kennedy School of Government last weekend has never been done before.
They were determining how women should be included in the next government of Afghanistan.
The John F. Kennedy School of Government's Women and Public Policy Program sponsored a policy framework meeting the weekend of Dec. 7-9. Some of the world's foremost experts on Afghanistan, Islam, government, education, and economics came together even as the war continued in Afghanistan and the next government remained a question mark. The group put together a document that suggests what Afghan leaders and international organizations can do to enhance the educational, economic, and political rights of Afghan women within the context of Islam and Afghan culture.
"This will be the first time in the reconstruction of a Muslim country where a Muslim framework for women's rights will serve as a foundation for building a new government," said Rina Amiri, a native of Afghanistan, the senior research associate at the Women and Public Policy Program, and the director of the program's new initiative Transitions within Traditions: Restoring Women's Participation in Afghanistan.
Over the weekend, the participants in the meeting split into three groups that focused on education, economics, and politics. The frameworks they developed provide a glimpse into what the next government of Afghanistan might look like.
While they envision a country where girls and women have equal access to schools and universities, they emphasized that Afghanistan has not always been a country where females were denied access to education. Before the Taliban took control, there was no institutional discrimination against women getting an education.
"We are trying to counter the stereotype that education has never been a part of Afghan women's lives," Amiri said.
Consequently, the education proposal focuses on re-establishing educational programs such as night school and adult education rather than creating them anew. They proposed developing an organization that recruits Afghani and other university graduates to teach in Afghanistan, and create schools for girls and women in refugee camps.
Transitions within Traditions is also trying to counter the stereotype that women who work in Afghanistan are violating Islamic law and Afghan culture. Indeed, the 1964 Afghan Constitution protects a woman's right to work. The participants of the meeting envision a postwar Afghanistan in which Afghan women are directly involved in identifying new sources of income. They also suggest that international organizations monitor emergency funds and humanitarian relief to ensure that such money is distributed in an equitable and gender-sensitive manner.
The scholars and practitioners at the meeting concurred that as Afghanistan develops a new, more inclusive government, national and international leaders should make sure that Afghan women are re-integrated into the political life of the country. In the past, women have been members of Afghanistan's Loya Jirga (Grand Assembly) and parliament.
As they debated the inclusion of various tenets of the document, all of the participants underlined the importance of reconstructing Afghanistan within the context of Islam. Any attempt to develop an Afghan government based on the Western, liberal perspective of women's rights will backfire in Afghanistan.
"We broke new ground this weekend that needed to be plowed because we've been moving ahead politically without a full understanding of the context of Islam," said Swanee Hunt, director of the Women and Public Policy Program. "Islam has come to be viewed as a negative, as the problem, rather than offering a cogent and helpful ethic on which to base not only governments, but also civil society. For us to move Islam out of the column of a problem, and to deal with it instead as a positive foundation, helps us connect with societies like Afghanistan, for which Islam is a firm core."
Amiri calls such an approach an "indigenous process for reconstruction," in which women's rights are restored within the framework of religious values and tradition. She says because the Afghan people have lived in a country of conflict and oppression, they have become more introspective and more religious. The new Afghan government, she says, must develop within that context or it will not succeed.
The problem is, the Afghan government is in such a state of flux right now, there is enormous pressure to act quickly, which is why Amiri organized the meeting. She says the document the Transitions Within Traditions participants created will directly influence the formation of a new government in Afghanistan. Political leaders, relief workers, United Nations employees, academics, and business leaders, among others, will read the document and use it as a foundation in restoring women's participation in Afghanistan. Amiri says she'll make sure of that.
"I am going to travel to Pakistan and possibly Afghanistan to educate policymakers and make sure [the new government] is grounded in Islamic values and Afghan tradition," she said. "And I'm just one of hundreds of other women and men traveling, consulting, advising and creating policy."